John was born in 1890 at Doncaster.
At the age of 11 John lived at 21 St.Swithins Terrace Balby Road,  Doncaster with his parents Arthur  who was a House Painter and Mary Hannah brother George Herbert and William  Henry and sister Annie Rebecca . By the time John is 21 his still lived at the above address and he worked as a Joiner.  His brother George (along with his wife) emigrated to Australia.  John enlisted into the K.O.Y.L.I. (Kings Own Yorkshire Light Infantry) where he served for 3 years.
At some time John also emigrated to Australia as he enlisted on 27th October, 1914 aged 24 years and 9 months.  He was a carpenter at the time.  John took the oath on the 21st October, 1914 at Liverpool, New South Wales where he joined the 3 Infantry (2ndReinforcments.)  On the 11th November, 1915 he embarked on HMAT "Seang Bee" (A48) and headed for Gallipoli.  Three months later John received a gun shot wound in the upper extremities and he was admitted to No1. Station at Lemnos.  John was later  discharged on the 9th June, 1915, and on the 15th June he rejoined is unit at the Gallipoli Peninsula.  Between the 7th and 12th August, 1915  John was reported missing at "Lone Pine" and he was still reported missing on the 14th August 1915.  John's body was recovered from a trench and buried at "Brown's Dip"  along with several others where put in the ground.  A Dean Talbot read the burial service.  On the 5th June, 1916 after a Court Of Inquiry Proceedings John was declared "Killed In Action".
John was a  Private with the 3rd. Battalion.  Service Number 1421.  His awards are, 1914/15 Medal, British War Medal and The  Victory Medal.
Cemetery or memorial details: Lone Pine Memorial, Gallipoli Peninsula, Canakkale Province, Turkey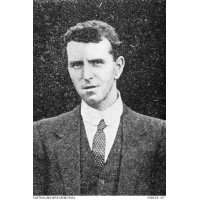 Son of Arthur and Mary Hannah Ramsbottom, of 21, St. Swithin's Terrace, Balby Rd., Doncaster, England.
Item copyright: Copyright expired – public domain


This item is in the Public Domain
Soldiers and officers crowd the decks of the HMT Galeka and the HMAT Seang Bee during a church parade conducted from the forecastle. The transports would shortly leave the Greek island of Lemnos to land at Gallipoli. The bay at Mudros was so crowded that the ships were moored in pairs.  Date 16/04/1915.  7 months later John was on board H.M.A.T. "Seang Bee" and heading for the same location.